Scott Fagan is The Virgin Islands very own World Class Singer, Lyricist and Composer.
From New York and London to Los Angeles and New Orleans, Columbia, ATCO, EPIC and RCA, Scott is legendary as
"The one who got away". "De white man from de black lan" Scott's music simply could not be pigeonholed or categorized
and contained.

William Krasilovsky, Author of "This Business of Music l and ll" proclaimed "Scott Fagan is a genius, and added "I'll certify that" Jasper Johns ground breaking lithograph "Scott Fagan Record" (of Scott Fagan's ground breaking album "South Atlantic Blues") has been thrilling art patrons at the great galleries and museums of the world for over 30 years.

Jimmy Buffett has realized great success with his version of the Contemporary Caribbean genre that Scott created and has been writing and recording since 1964. This style of music now has legions of fans worldwide and is as hot as the tropics.

The world is catching on.
Scott is now signed to write, record and produce his wonderful music exclusively for Littlefish Records, St. Thomas, Virgin Islands. This compilation of songs relating to The Virgin Islands and upcoming releases by this extraordinary Virgin Islands artist, will position the Virgin Islands at the forefront of Contemporary Caribbean Music, and establish for one and all, that no visit to the islands can be complete without seeing and hearing "The King of Contemporary Caribbean" Scott Fagan.


More SCOTT FAGAN releases:

"Sandy The Bluenosed Reindeer"

"DREAMS SHOULD NEVER DIE"
(The V.I. Songs, Volume II)

"Many Sunny Places"

"BURIED TREASURES
"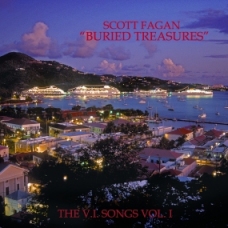 Click here to listen to the music
"The V.I. Songs"
Song List
Cherrigo Sad
Archipelago Man
Surrender To The Sun
Many Sunny Places
Carnivals Over
Nothin' But Love
Medley Labeiga Carousel/Tutsie
South Atlantic Blues
When You Take It All Away
*The V.I. Song

*(The V.I. Song was recorded live at
STARfest 10, Reichhold Center,
St Thomas, V.I. May, 2004)

These songs and performances are dedicated to the people of The Virgin Islands, whose abiding strength, love and character have always been my greatest inspiration. And to my little one Holiday, and her "Uncle Tuts" who are true Champions.

*Cover Photo by Don Hebert. Produced by Littlefish Records, St. Thomas, U.S. Virgin Islands.
All Rights Reserved.
---
This remarkable Virgin Islands recording artist has somehow sustained a freedom and freshness in his music, while persevering against unbelievable odds for over 40 years. This degree of determination and commitment, extraordinary in this, or any age, is another trait that he acknowledges as having come from his Virgin Islands upbringing.

"Giving up is simply out of the question. There is a point on the charts towards the west end of St. Thomas called 'Pull or be Damned.' That says it all for me" If you love great singing and great songs, and great characters with great hearts, and if you love them that come back against all odds, then you will love Scott Fagan.

In this world of gray on gray, here is an artist of the rainbow day. One who bends but will not break, like the spirit of the beautiful Virgin Islands themselves. What a story untold…

Be sure to look for "DREAMS NEVER DIE" (The V.I. Songs Vol. II) and Scott's wonderful Christmas Operetta titled "SANDY THE BLUENOSED REINDEER."